We are thrilled to share the University of Chicago Medicine has selected CannonDesign, Blue Cottage of CannonDesign and our Yazdani Studio as its design partners for a 500,000-sf, paradigm-breaking cancer center located on the health system's main South Side of Chicago campus. The announcement of plans for Chicago's first freestanding center dedicated to cancer care and research was covered broadly by the Chicago Tribune and other local news outlets.
UChicago Medicine is boldly working to redefine how cancer is researched, treated, diagnosed and ultimately prevented, and our wide range of services helps the storied institution reimagine the entire spectrum of cancer and patient care, from arrival to treatment to survivorship.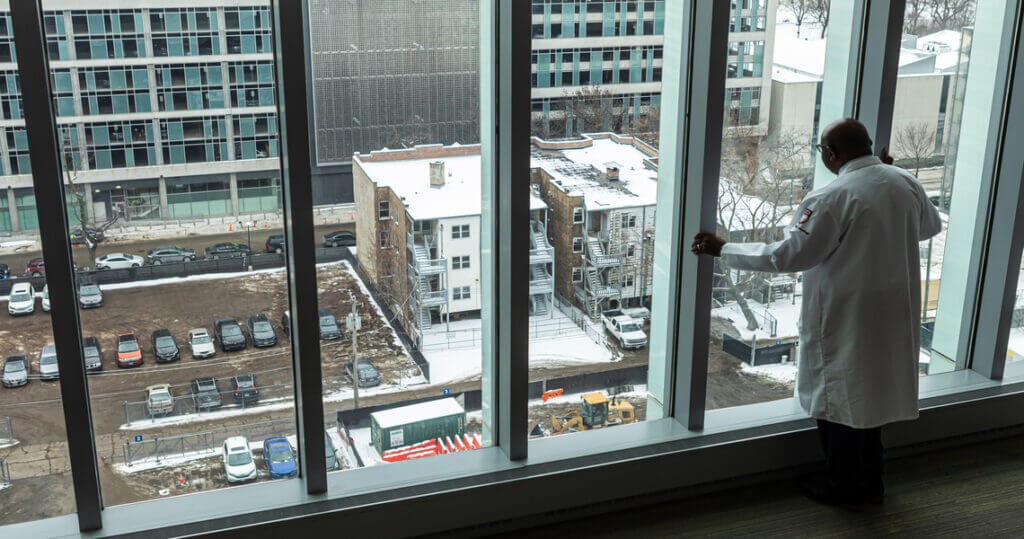 Adekunle Odunsi, MD, PhD,  looks over the proposed site of UChicago Medicine's new cancer center from The Gwen and Jules Knapp Center for Biomedical Discovery on the Chicago campus. (Photo by Nancy Wong/Courtesy of UChicago Medicine)
"The University of Chicago has long been recognized for its strength in basic and translational research with fundamental and seminal contributions by our faculty to understanding the basic biology of cancer and its treatment," said Kenneth S. Polonsky, MD, Executive Vice President for Medical Affairs at UChicago. "Our health system is looking to build upon this legacy by establishing a cancer program of the future, where groundbreaking science and compassionate, complex care intersect to provide an unrivaled approach to prevent, diagnose, study, treat and cure cancer."
If the initial phase of the project is approved by Illinois regulators, we will work with UChicago Medicine to design a care center that likely will house 100 exam rooms, 128 inpatient beds, radiation oncology and infusion services, and other cancer services. The building would offer essentially every service related to cancer care, helping bring significant efficiency to the patient experience. Moreover, as Chicago's first freestanding cancer center, its existence will inherently increase capacity across the rest of UChicago Medicine's campus for other health services.
By every measure, UChicago Medicine's goals for this cancer center are remarkable. The project will redefine cancer treatment and the cancer center typology. It will be designed to serve a wide spectrum of patient, clinician, research and community needs as it radically enhances the patient experience, drives the academic health system's culture through immersive collaboration and responds to future shifts in technology, diagnostics and/or treatment.
"Everything about this project is inspiring. What UChicago Medicine wants to do and what they believe is extraordinary. It's an honor to be their design partner," said Abbie Clary, Project Executive and Co-Director of CannonDesign's Health Practice. "This isn't about incremental change, it's about taking an extraordinary step toward eradicating cancer and creating new opportunities for the way we treat the disease in Chicago and globally. We're so excited for the journey ahead."
To achieve such a breakthrough solution, our team has composed a deeply collaborative and thorough design process. We've assembled a team of experts from across our global organization and begun a process rich in research, prototyping, design exploration, stakeholder engagement and more.
"UChicago Medicine is clear, they want to radically transform cancer care and treatment while enhancing patients' experience." said Mehrdad Yazdani, Director of Yazdani Studio of CannonDesign and Design Principal on the project. "Our responsibility is to provide a building and environment that enables that transformation. Transformation doesn't just happen though. We have to be willing to step out of our comfort zones and embrace new ideas at every scale. We've created an integrated design process that engages UChicago Medicine alongside the design team to deliver transformation."
As one of only two National Cancer Institute-designated Comprehensive Cancer Centers in the state, UChicago Medicine's new facility is poised to become a destination for cancer care not only for the neighboring South Side community but for Chicago and beyond.
Currently, the building and patient experience are being designed by our teams with significant input from the health system's clinicians, staff, patients, loved ones and community. Pending full regulatory approval from the Illinois regulators, construction is currently expected to begin in 2023, and the cancer center would open for patients in 2026.