Signs of the Times, a leading publication for the signage and environmental graphics industry, has published a new story about collaborative design that focuses on the Anne Frank exhibit at the Los Angeles-based Museum of Tolerance, designed by the Yazdani Studio of CannonDesign.
The piece notes that "the exhibit, simply titled 'Anne,' was part of the renovation of Los Angeles' Museum of Tolerance, a hands-on experiential museum focused on the dynamics of anti-Semitism, racism and prejudice, according to Mehrdad Yazdani, design principal of Yazdani Studio of CannonDesign . 'Our team helped renovate the museum in a project that modernized exhibit spaces, two theaters, a children's multi-functional learning center and several multi-purpose rooms, [including] "Anne,"' he said.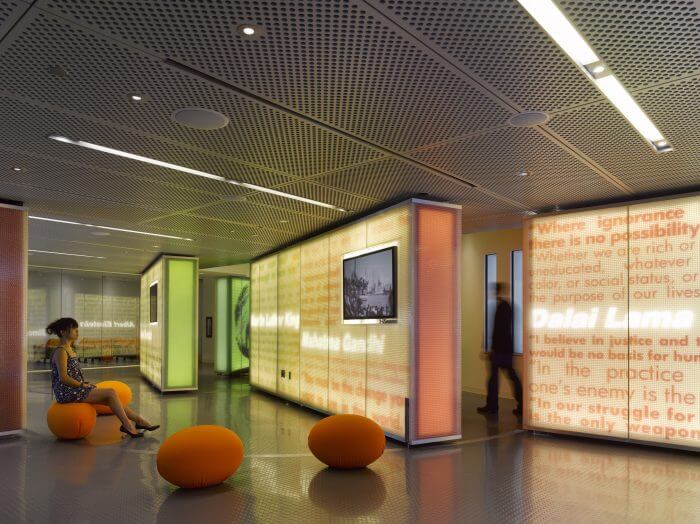 To connect Anne's story to current generations, modern tools and technology were required. "What differentiates this exhibit is that we didn't just reconstruct the attic and room where Anne Frank lived with her family," Yazdani said. "Instead, we focused on creating an immersive experience of her life, [seeking] to illustrate her story with unique nuances and moments that defined her existence." According to Mimi Lam, associate vice president of Yazdani Studio, these nuances include the following:
A collection of visual cues that illuminates Frank's life, writing and imagination.
A backlit, larger-than-life portrait of Anne paired with excerpts from her diary. The image can be seen through the windows of the museum and looks out toward the Hollywood sign.
A pair of 20-ft. graphic walls; one transports visitors to Amsterdam and the other reveals Frank's family tree.
Photo graphics etched on Dibond panels that breathe life into artifacts contained in display cases.
A chestnut tree graphic printed on opaque PVC film that acts as blackout window tint to hide basketball courts otherwise visible from the building's windows.
For Lam, the museum was an ideal client, understanding that the graphics could make the exhibit an emotional and educational experience. "Graphics are critical to making her story accessible and relatable to the younger generation, and the museum cared deeply about this reality," she said. Yazdani Studio used Adobe Illustrator and Photoshop to design the exhibit and collaborated with a strategically selected team to ensure accurate fabrication, installation and maintenance."